Gifts of the Rain Puddle:  Poems, Meditations and Reflections for the Mindful Soul (scheduled for release early October 2017)
An Invitation to My Readers
Gifts of the Rain Puddle is an invitation to awaken to what is most important in your life and to be present to the precious, unfolding moments. Through poems, meditations and reflections, this book will inspire you to experience the fullness of your life – to celebrate the ordinary joys and to be present to what is difficult, with compassion and openness. Its words will encourage you to ask some of the bigger questions that often go unspoken and to celebrate the common humanity we all share.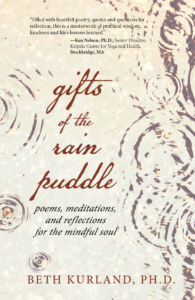 "With all the grace and wisdom of writers and mindfulness teachers like Mark Nepo, Beth Kurland's Gifts of the Rain Puddle teaches and supports readers through the direct, experiential authenticity of her poetry. Her lens on human suffering as both a therapist and meditation practitioner makes this book not only a very useful guide to one's practice of meditation, but a primer on moment-to-moment relating to one's daily life. Poetry has that power, and in the hands of therapist and meditation teacher Beth Kurland, Gifts of the Rain Puddle goes beyond and behind words and into the light of awareness available in all moments."
—Mitch R. Abblett, Ph.D., clinical psychologist.
Author of The Heat of the Moment in Treatment,
and The Five Hurdles to Happiness(forthcoming)
"Filled with heartfelt poetry, quotes and questions for reflection, this is a masterwork of practical wisdom, kindness and life's lessons learned. Beth shows how mindfulness, innocence, mother-nature, and inner knowing can shape our lives. She shares insights for healing and wellbeing. How to drop the unhelpful stories we tell ourselves. How not to look, but to really see! How a simple breath makes magic of an ordinary day, or serves as a lifeline from stormy seas to safe and sacred ground. How small daily steps lead to a life well lived.
—Ken Nelson, PhD, Senior Director,
Kripalu Center for Yoga and Health, Stockbridge, MA
"If, as Beth Kurland indicates in the preface, writing is therapeutic, a medicine for the soul, then this book is a treasure for anyone who reads it and takes in its offerings. Interspersed with wise words of her years as a practicing psychologist, Dr. Kurland provides sage advice and succor for readers through her poetry that is instantly accessible and intelligent. This book is a positive step for improving the reader's outlook on life as well as upgrading daily living."
—Zvi A. Sesling, Author of The Lynching of Leo Frank
Editor, Muddy River Poetry Review,
Poet Laureate, Brookline, MA
"In Gifts of the Rain Puddle Beth offers us the opportunity to notice. Utilizing her heartfelt reflections, she invites each of us to take the time to pay attention to life as it unfolds, looking not just at the large events which often draw our attention, but also to seek out the little occurrences we so often miss. Awareness is an active process as we learn, through Beth's guidance, to take the time to apprehend the world, both allowing it to come to us in effortless awareness and in inactively seeking through noticing, looking, listening, feeling, touching, and tasting the world. Thank you Beth!
—Dr. Stuart Jacoby, Ed.D. Clinical Psychologist
"Beth's book, Gifts of the Rain Puddle, is a good reminder that we are not alone in our thoughts and feelings. Her poems speak to the realities of being human and provide perspectives that are useful as we experience this thing called life. The guidance she offers helps us consider ourselves and others as we grow. This is one to have on your bookshelf!"
—Melysa Friedman, LICSW, clinical social worker
Beth Kurland's insightful collection of poetry is a 'must-read' for anyone seeking transformational personal growth, comfort, and emotional healing. On both a personal and professional level, Dr. Kurland's poems speak to the heart and soul of humanity.
—Jessica Kahan, M.A., Ed.S.